Topic: 2017 NFL DRAFT - RUNNING BACKS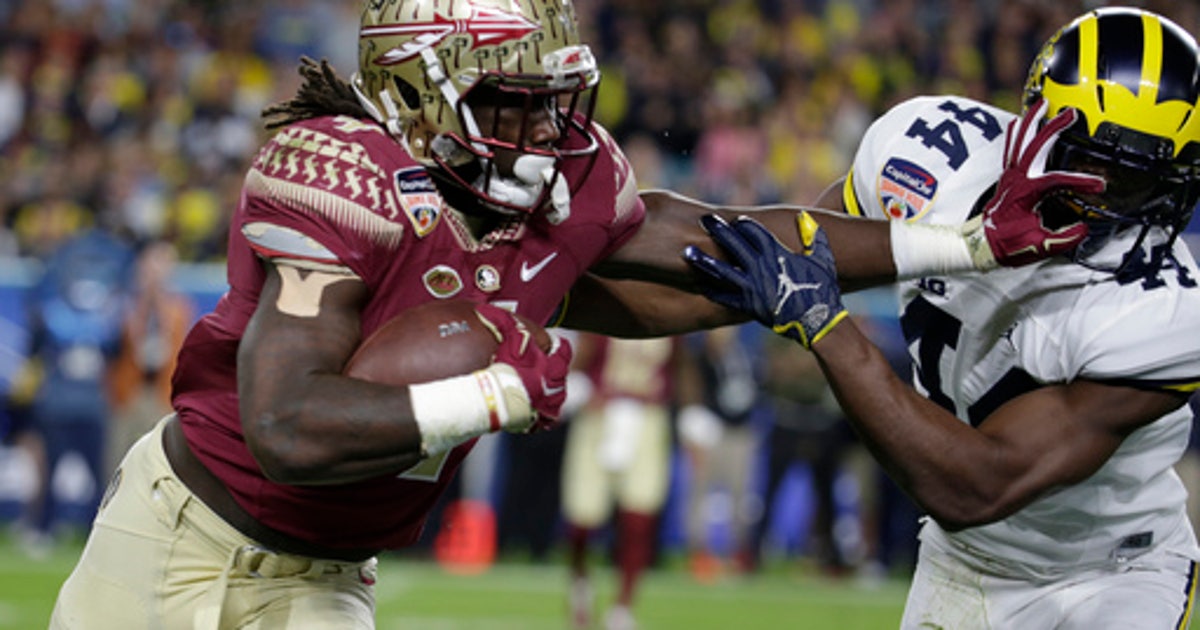 Dalvin Cook 5-11/213
Running back
Florida State
Strengths:
Explosive
Elusive; has moves in the open field to dodge blockers
Tremendous open-field runner
Fast; can break off long runs on any carry
Threat to score on any carry
Rare acceleration
Has enough strength to get yards after contact
Excellent vision
Great feet
Cutting ability
Good build and size
Finishes runs well
Burst to the hole
Has great straight-line speed to pull away from defenders
Shiftiness; will juke defenders
Rare receiving ability
Superb route-runner
Excellent hands
Receiving ability
Willing blocker in blitz pickup - has potential to be very good
Has a nose for the end zone
Wears down defenses
Excellent knee bend
Runs behind his pads
Runs well in the second half
Good fit for a zone-blocking system
Perfect fit for a man-blocking system
Plays injured
Solid character
Weaknesses:
Ball security
Must cut down on fumbles
His power and yards after contact will probably be diminished in the NFL
There is no doubt that Cook is a dynamic runner for the NFL. He is a well-built back with tremendous speed. He has an explosive first-step and a second gear to accelerate downfield after hitting the next level. Cook is a very elusive runner, too, and that makes him extremely dangerous in the open field. In space, Cook dominates defenders with juke moves and cuts to weave around defenders. Additionally, his natural height, knee bend, and body lean make him very tough to get a hold of for defenders. Cook also has tremendous feel with vision and patience as a ball-carrier. He is a natural running back who is a slashing weapon to carve up defenses.
As a receiveing back, Cook is an incredible prospect. He runs tremendous routes to get open and has superb hands. He is a threat to make big plays in the passing game by running routes vertically down the sideline. With his skills as a receiver, Cook could line up in the slot and should be a mismatch weapon who will be very valuable on third downs as an outlet receiver who can move the chains. Cook has blocking potential for the NFL, but all college backs have a learning process for handling NFL pass-rushers.
For the NFL, Cook looks like he has the ability to be a franchise running back similar to Jamaal Charles, LeSean McCoy or Marshall Faulk. Dominant running backs can make a big difference in the win/loss column, and Cook could make any offense challenging regardless of the quarterback. Cook is a threat to score every time he touches the ball. He looks like a future Pro Bowl running back if he can stay healthy and improve his ball security.
let it ride